About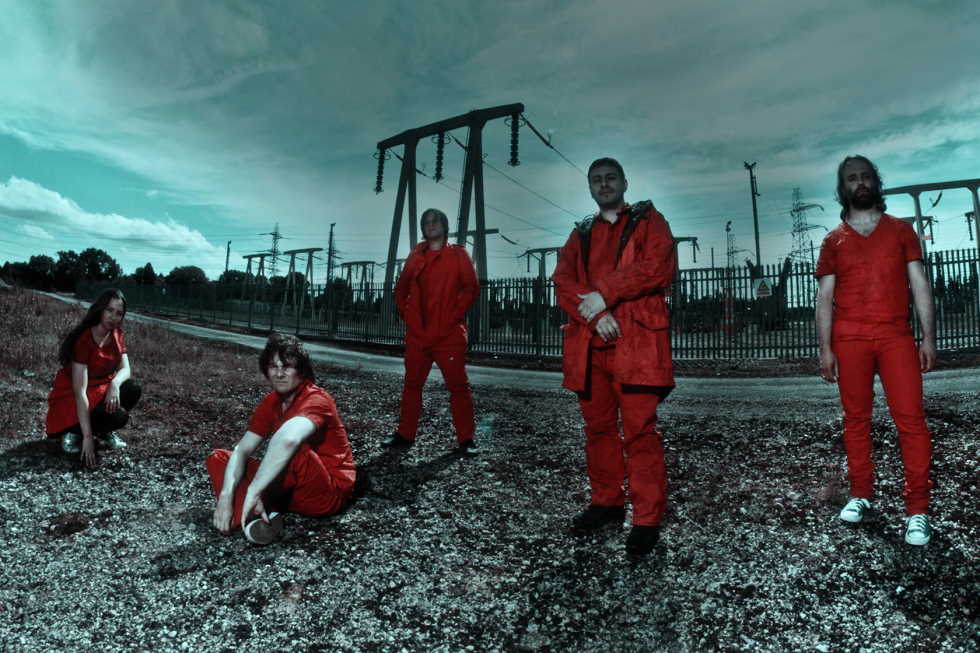 Black Submarine's eponymous debut album unites five veteran agents of the spectacle at the height of their powers. As the name suggests, these musicians operate in subsurface currents, with songs that prowl a listener's brain stem long after the needle is lifted and reality resumed.
The project began in 2008, after Nick McCabe and Simon Jones asked Davide Rossi to provide string parts for The Verve's Forth, midway through that band's tumultuous reunion and the year of their totemic Glastonbury headline slot. Striking a common vein of pop sensibility and grander, soundtrack-influenced ambitions upon first meeting, the three continued to share inspiration as Rossi came out on tour with the band. The electric violinist, tutored by such luminaries as Stockhausen, Ivan Krivensky and Robert Fripp, came to prominence with his work for Alicia Keys, Lee Hazelwood and Goldfrapp, and had recently given Coldplay's Viva la Vida and Mylo Xyloto some of their richest and most affecting moments.
The trio enlisted ex-Portishead/Santa Cruz drummer and Bristol scene mainstay Michele 'Mig' Schillace, a longtime friend who they'd worked with in Field Theory, and flew to Denmark in Winter 2009. Feeling "absolutely fucking freezing" but focused and excited, McCabe says, the band wondered the haunted grandeur of Copenhagen, visiting its churches, making field recordings that have wound their way into the album, and recording each day.
Back in the UK, Schillace had been managing dynamite Bristolian singer Amelia Tucker, a serendipitous compliment to Rossi's sandblasted baritone. Blown away by the top line she gave 'Here So Rain,' the second track on the album, the band switched from a Massive Attack-inspired rotating vocalist arrangement to incorporate Tucker as a fulltime member.
In the following months, the five passed stems between their home set ups, with Tucker working into the material the band had generated in Denmark, refining its extended jams into a crystalline hybrid of soundscape and pop song. A year later, they reconvened in McCabe's studio on the Walworth Road in Elephant and Castle, an ex-Victorian post office, with a communal live room at its centre surrounded by repurposed sorting offices.
Tucker and McCabe would enter this rabbit warren to sit down with the monitors blaring, going over the mixes, well-supplied with tea and biscuits, and surrounded by stockpiled machines and sonic paraphernalia. "It's full of stuff, like an Aladdin's cave of stuff," Tucker remembers, "It's really bad, he definitely feeds my addiction to recording gear." The best material was hewn collectively into song structures, perforated by mercurial, Debussian strings, and worked upon further by the band before being sent to Jim Spencer (Robert Wyatt, Echo & The Bunnymen, Factory Floor, Oasis) to be mixed.
Though it's Black Submarine's spaced-out vocals, deep beats and molten soundscapes that retain a vice-like hold on first listen, the heart of this LP is in Rossi's string arrangements. They parse the album's 10 songs together, sustaining its climaxes, their celestial mechanics turning 'Heavy Day' and 'The Love in Me' into full-colour dopamine explosions. They match pound-for-pound Simon Jones' rolling bass-lines, McCabe's meditative chord sequences and cavernous electronics, and are left hanging in suspended animation whenever these thick layers of songwriting evaporate.
Opener 'Black Submarine' snatches a quick breath of this haunted instrumentation before post-industrial acid low-end blisters into the foreground, supporting mantra-like vocals. It's a markedly ominous, almost brutal arrival. Conditions were briefly inclement, with the band weathering legal vexation after they released the Kurofune EP as Black Ships. Perhaps that's the source of an angst and malevolence cheek-by-jowl here with the record's sweeter moments. The shaded half of their sound recalls the reconstituted smack Jazz of Portishead and Bristol sound acts, resurrected in recent years by the likes of Flying Lotus and Atoms For Peace. It's a permutation of the music that surrounded them in their early careers, made relevant again by a new period of physical-digital upheaval and the contemporary hybridization of EDM, hip-hop and pop.
The record covers vast terrain and incorporates polar contrasts however, brining effects laden, Moby-via-Morricone soundtrack experimentation juddering into a disquiet accord with accomplished songwriting, the side that may be more familiar to fans of Jones and McCabe's earlier material. In particular there is a sonic tie to the latter's work with John Martyn; Black Submarine recently contributed a break beat inflected 'Rope Soul'd' to a Martyn tribute record, audible here.
Featuring a vocal turn by 20 year-old Elly McCabe, 'Lover' pinpoints exactly this mellifluous territory, as does the standout 'Heart First', a 6 minute symphonic rapture that unleashes Amelia Tucker's lungs:
"Jump out jump in to the end of what you knew/Take a breath and leave your self behind you"
Always intending the band to be a self-sufficient affair, with total creative freedom, they had soon realized that,despite the well-documented gripes to be had with major labels, producing a full and finalized project, without risking the potential creative paralysis of a big advance, and without any sort of team around them, was something of a Herculean challenge. Determined to pull something new and original together despite lives and careers in full flight, they slyly subverted their 'Ships' moniker and signed to Kobalt. Luckily, and of interest to any exploitation cinema fans, help had come unexpectedly when the band landed the soundtrack for a Mickey Rourke movie, 'Java Heat,' a B-movie shrapnel fest and cult hit where it's set in Indonesia. Using their thoroughly modern process, all five members worked and shared music remotely, each having a hand in its construction while never once being all in the same room. With the proceeds, they could finance the whole LP themselves and achieve the self-sufficiency they had set out for.
It paid off handsomely. These 10 songs, darked out missives pitched in the nether-space between early morning and daybreak, between screen and mind, seep out around the edges of the record, achieving a remarkable psychoactive subterfuge.